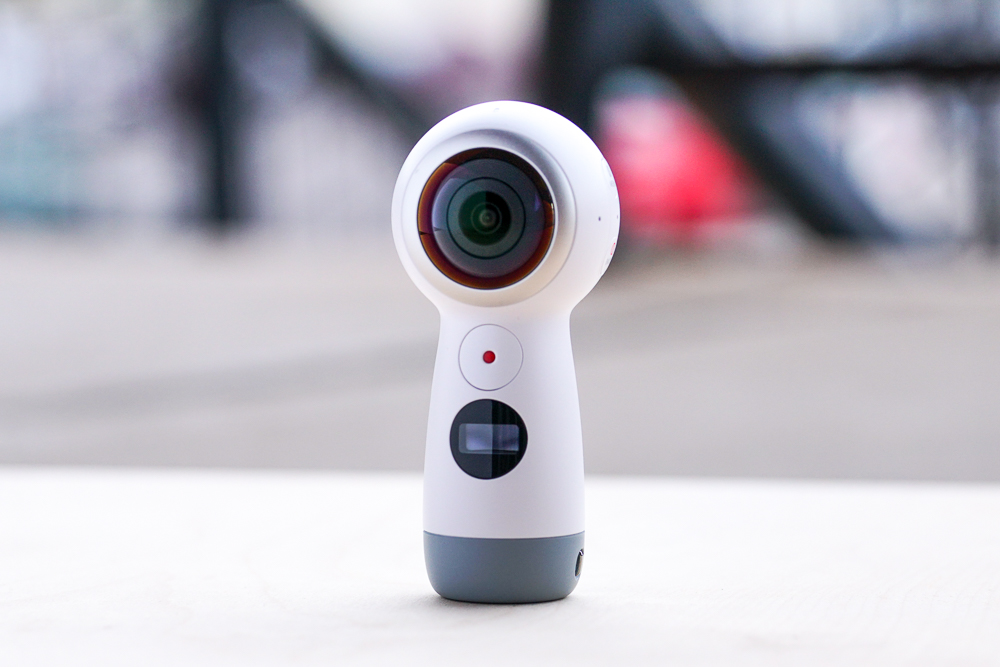 360 degree films! Virtual Reality content! It seems as though every large electronics manufacturer would like to kickstart some VR mania. In a push to instigate user created content in hopes that headset sales will follow, many manufacturers are bringing affordable 360 cameras to market. One of them being Samsung. The Samsung Gear 360, 2017 edition, is the 2nd generation of the camera and with it comes a new form factor and updated mobile app. Looking to be an early adopter of 360 technology, I thought I'd pick one up and give it a spin as a stepping stone to something a bit more professional grade.

Basic stats:
Camera: Dual CMOS 8.4MP, Dual F2.2 Fisheye Lens.
Resolution: Up to 4096×2048 @ 24fps 360° Video/15MP 360° Still Image.
Battery Capacity: 1,160mAh.
Connectivity: USB C
Dimensions: 3.96″ x 1.82″ x 1.78″.
Weight: .29 lbs.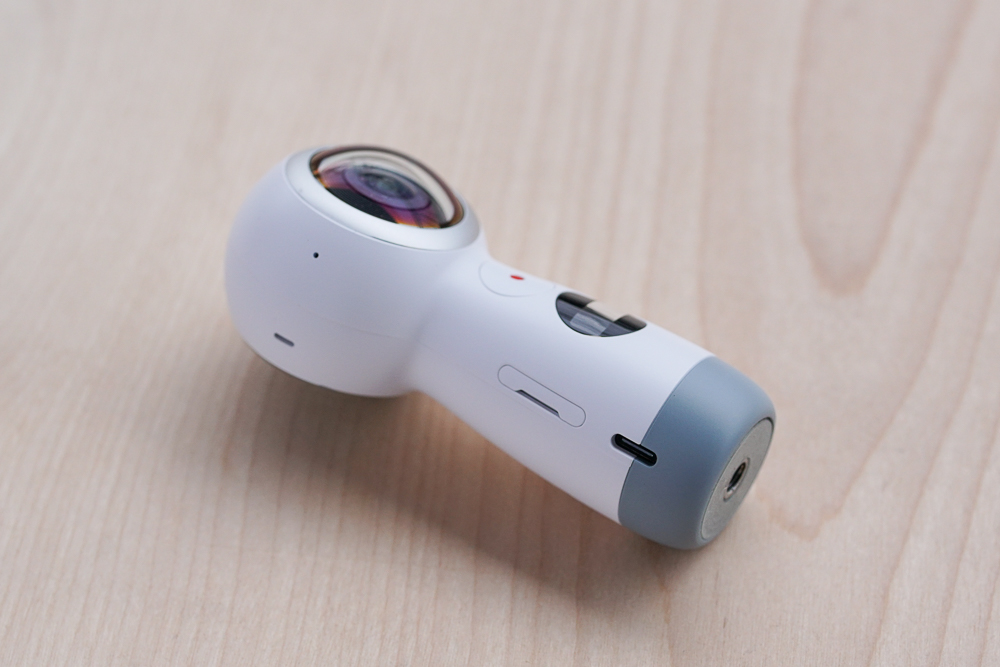 First, I'll say this: If you're a hobbyist and are looking to snap and share quick single clip 360 videos and pictures, this is a great solution. The Samsung Gear 360 app lets you import and process files quickly and on the go. By linking your Facebook account to the app, you're also able to easily set up 360 degree live streams. The camera utilizes 2 4k sensors back to back to capture 2 images that the app stitches together to create the spherical content. With the Samsung Gear 360 you're able to snap photos, videos, and even film timelapses with the press of a button or from your app.
The complications come when you're trying to create a video that will require any sort of post production. Before you can get your footage into any NLES (Non-Linear Editing System), you'll need to "stitch" your footage; otherwise, you end up importing video clips where the content is two circular images side by side. The two tools that Samsung presents for this are the previously mentioned app and a third party solution called ActionDirector by Cyberlink. ActionDirector is poised as a renderer of sorts, with the capability to batch stitch your 360 clips before letting you compose your final edit. This would be well and good if ActionDirector didn't fail miserably as a stitching solution. The stitched clips wiggle and jump at the seams as if about to burst open with worms like Oogie Boogie. Your ability to exert any influence to the stitch are handicapped at best so you're left with unusable footage and your next best solution is utilizing the phone app.
In the process of learning all this, it's at this point that my workflow had to become this: wirelessly transfer clips from the Gear 360 to a cell phone, use the app to stitch the raw 360 clips by exporting them to Google Drive wirelessly (you can't export to a local drive), then downloading them on a desktop computer before being able to finally edit them. This isn't acceptable to a hobbyist, let alone a professional who might need to flip a project under a strict deadline.
Test footage shot at San Diego Comic-Con

The Samsung Gear 360 comes with some nice features and the look and feel of it are incredible, but the difficulties this camera leads to in post production lock it in at hobby grade. What looks like it has the potential to be an incredible alternative is the Garmin Virb 360, which boasts 2 5.7k cameras, 4 microphones, image stabilization, in camera stitching and a host of data displaying abilities and post production tools. Have you used a Virb? What are its greatest perks or downsides? Or do you know of a more productive solution to getting your Samsung Gear 360 clips into a usable state? Let us know in the comments below!
Pixel Thick is a Phoenix, AZ based video production company.